May 2nd, 2018 | Updated on July 4th, 2022
While she might be best known for being Donald Trump's daughter, Ivanka Trump has made a name for herself in the fashion industry as she has her own line of clothes, handbags, shoes, and accessories.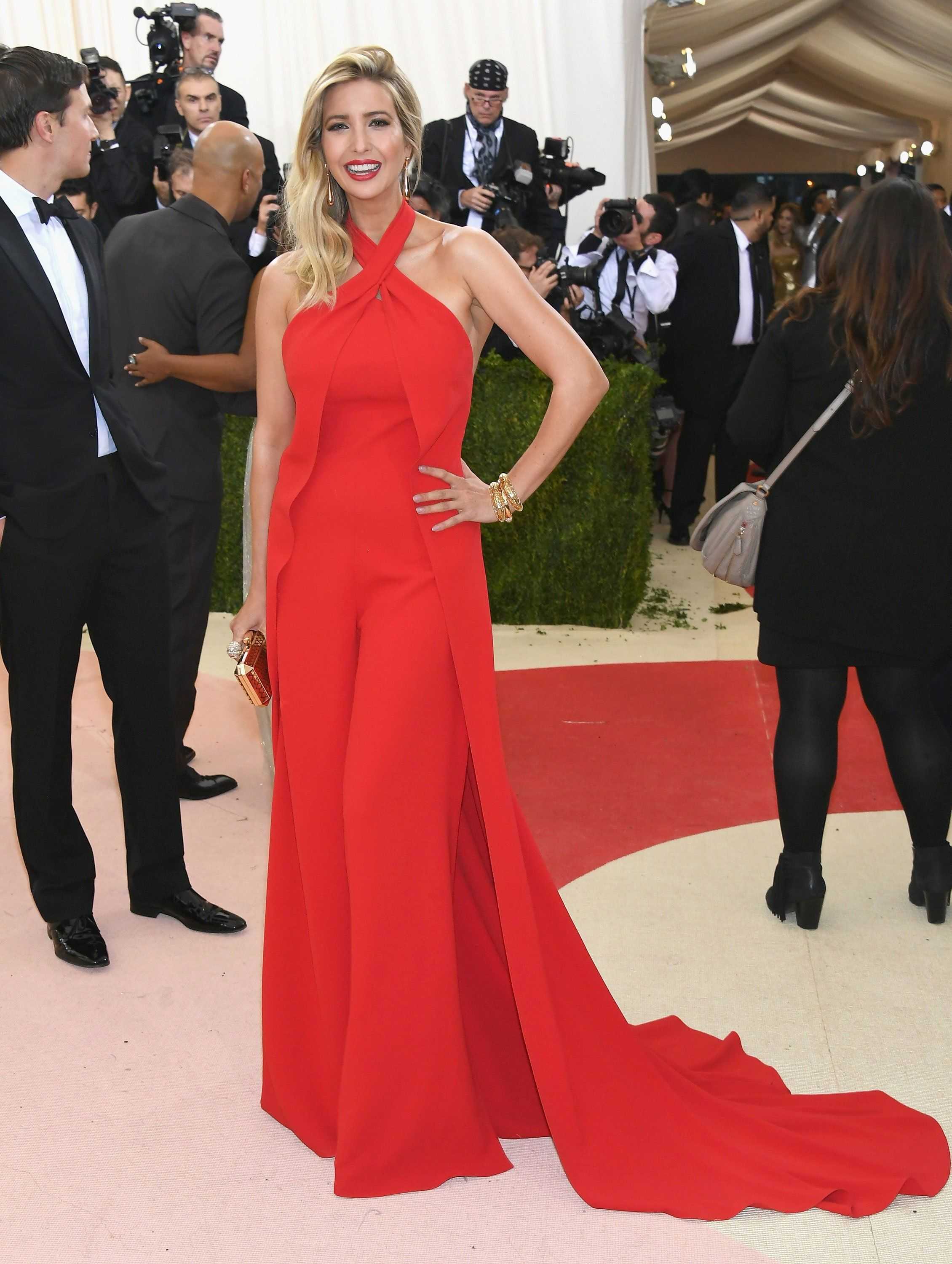 Here are 32 photos that prove Ivanka is a fashion icon we need to keep an eye on.
1. Ivanka Trump looked as happy as can be as she left her Washington
2. Ivanka accessorized her ensemble with a pair of Ray-Ban sunglasses, some gold jewelry, and a handbag from her own fashion line
3. Ivanka looked like she didn't have a care in the world as she made her way out of her home
4. Rocking all black, the First Daughter wore a black top with black Alice + Olivia Eloise wide-leg pants while out and about in Washington D.C.
5. The political power couple took a stroll in the sun, with the Trump daughter sporting a yellow Zara skirt with sleeve detail and white Kenneth Cole sneakers.
6. Looking bright in a baby blue dress, the former model attended the Trafficking in Persons Report Ceremony and accessorized her look with Ivanka Trump collection earrings, handbag and pumps.
7. Ivanka wore a white and rose pink floral Reformation Mariana dress at the 2017 White House Congressional Picnic.
8. The D.C. daughter stepped out in a floral Dolce & Gabbana skirt, accessorizing with Krew St. Louis sunglasses.
9. Ivanka has been embracing the warm weather with a series of sleeveless ensembles in recent weeks
10. Ivanka was photographed returning home after a workout
11. Ivanka appeared to be taking her five-year-old daughter Arabella to camp before heading to work for the day
12. Ivanka donned a pale pink racer-back tank top, block leggings from her eponymous fashion line
13. The 35-year-old flashed a bright smile and waved as she passed the photographers outside of her home
14. Ivanka wore a military-inspired dress by Altuzarra with lace-up block-heel sandals
You May Also Like 20 Incredible Photos of Ivanka Trump Doesn't Want The World To See
15. The political powerhouse walked hand in hand with her husband while wearing a coral Ivanka Trump Collection dress and Dior sunglasses.
16. The businesswoman rocked a short-sleeved dress with lace-up pumps in Capitol Hill.
17. The First Daughter looked chic in blue, leaving her home in Washington D.C. in a Jason Wu silk draped dress and nude pumps.
18. Ivanka wears contrasting colors while accompanying her father, sporting black Milly trapunto trousers and a fitted white top.
19. The Trump daughter smiles and waves in a patterned, button up dress and Ivanka Trump Collection pumps.
20. The businesswoman rocks red when leaving her house in Washington D.C, wearing a Carolina Herrera floral trumpet dress and nude Stuart Weitzman pumps.
21. Looking smart and stylish in a black and white Escada Fall 2017 dress, Ivanka gives her political input in Washington D.C.
22. The Trump daughter blows kisses in Rome, wearing a Hillier Bartley silk midi dress.
You May Also Like 25 Super Hot Photos of Ivanka Trump, Donald Trump's Daughter
23. Ivanka strolls in D.C. with husband Jared Kushner while wearing pumps and a floral dress.
24. Ivanka's black and white ensemble, sported as she stepped out in Washington D.C., is completed with Jimmy Choo sunglasses.
25. The political powerhouse is seen leaving her home in a polka dot J.Crew sheath dress in Washington D.C.
26. In a J. Crew gingham dress leaving the White House.
27. In Carolina Herrera dress attending summit in Berlin.
28. In Michael Kors attending a panel on women entrepreneurs at the W20 Summit in Berlin.
29. Ivanka Trump, 36, joined her father, President Donald Trump, in honoring members of the U.S. Winter Olympic and Paralympic teams at the White House
30. The first daughter donned $445 floral top and a $540 matching skirt by Kenzo
31. Ivanka topped off her look with white cap toe pumps and a black sash tied around her waist
32. The senior adviser (pictured with Sarah Huckabee Sanders) led the U.S. delegation at the Winter Games closing ceremony
Source: dailymail.co.uk , eonline.com