November 22nd, 2017 | Updated on April 13th, 2021
If you're trying to lose weight, work on your fitness, or eat better, your smartphone can be a helpful tool — but only if you have the right app.
Thankfully, we've dug through hundreds of apps out there to give you our take on the best apps in the App Store to help you stay healthy and fit. If you are looking awesome health and fitness apps check out below with user review :
1. Google Fit – Fitness Tracking
Effortlessly track any activity. As you walk, run, or cycle throughout the day, your phone or Android Wear watch automatically logs them with Google Fit. Get instant insights. See real-time stats for your runs, walks, and rides. Google Fit will record your speed, pace, route, elevation, and more so you can stay motivated and on track. Reach your fitness goals. Set goals based on steps, time, distance, calories burned. Receive personalized recommendations and coaching for activity goals. Measure your wellness. Aggregates info from other apps to track fitness, nutrition, sleep, and weight: Android Wear, Nike+, Runkeeper, Strava, MyFitnessPal, Lifesum, Basis, Sleep as Android, Withings, and Xiaomi Mi bands. Check in from anywhere. Track your progress from your phone, tablet, the web (fit.google.com) and even your Android Wear watch. Download Here…
Review Of Apps : Since the last update it's started counting long pauses as part of my workout time. For example it will count walking to the his, my bus trip and walking from the bus as one walk, so it inflates the time I was active for. Not cool!
You May Also Like App To Track Text Messages: Why Are Text Messages Popular?
2. Pedometer & Weight Loss Coach
"Pedometer & Weight Loss Coach" syncs steps and calories with MyFitnessPal. Just download and open. Our app tracks your steps for you as long as your phone is with you. Check all your history from the 'Trends' Tab. Support and encourage friends from the 'Groups' Tab. Track your weight from the 'Me' tab. Apps Is Available Here…
Review Of Apps : Well until I understand how to use it for free (no instructions) it doesn't make sense to pay for the coach online. I'm a trainer myself so I really don't see me doing that anyway. This app however is motivating me to push to overcome my disability and get back to the guy I use to be before my accident when I was training. I'd just like to know how to post pictures on here of my workouts and where I do them at. (I workout outdoors) Now don't get me wrong, I love the app. I just need more understanding on how to use it so that I can possibly encourage/help others. Ok I'm getting more in tune with the app.
3. Runtastic Running & Fitness Tracker
Reach your fitness goals & boost your running training with the free Runtastic GPS Running & Fitness app. Let us be your go-to fitness tracker (distance, time, speed, elevation, calories burned…) – for activities like running, jogging, biking & walking. It's the best walking, running and jogging app on the planet! And, this runner app is fully optimized for Android Wear 2.0. There is not another running, walking or jogging app like Runtastic! Be a part of a global fitness community & get tips from the pros to help you reach your fitness goals. Track your entire running map right in the best running app! Click Here For Download Apps…
Review Of Apps : App getting better and better, but I am still confused how (and what) Runtastic hardware do I need to use to get heart rate measurements with my Huawei MT1-U06? Any suggestions please?
You May Also Like How To Track Phones When They Are Turned Off?
The free Fitbit app is designed to work with Fitbit activity trackers and smart scales. GET ACTIVE. EAT BETTER. MANAGE WEIGHT. SLEEP BETTER. Wirelessly SYNC your Blaze, Alta, Alta HR, Charge 2, Flex 2, Surge, Charge HR, Charge, Flex, Aria, One or Zip tracker with your Android device. Track your DAILY GOALS and progress over time for STEPS, DISTANCE, CALORIES BURNED and more. Use GPS to track your RUNS, WALKS & HIKES. LOG ACTIVITIES like YOGA and WORKOUTS to keep you on track. LOG FOOD to see how many CALORIES you consume each day, and manage your WEIGHT over time. COMPETE with FRIENDS with daily or weekly CHALLENGES and compare stats. ALL DAY HEART RATE TRACKING with Fitbit Surge and Charge HR. Available Here…
Review Of Apps : This app is still deleting my data. Even though I followed their instructions to make sure I synced my device when putting it on. I'm wearing my original charge hr and the app keeps deleting the data from it, and trying to use only the data from my new charge 2, even though I'm not wearing it. I have all day sync and always connected selected for my charge hr, and neither selected for my charge 2, but it will only connect to my charge 2. What's the point in using the app if it's going to delete my data, and the selections for my devices don't work. I used to think it worked great, but really every update just makes things worse.
5. Runkeeper – GPS Track Run Walk
Everyone. Every run. Join the community that helps people get out the door and stick with running forever! Track exercise, set goals, sweat, and see progress along the way. Whether you're working your way up to tracking a 5K goal or deep into marathon training, use the GPS app trusted by 50 million users and counting. Track Workouts – Go for a run, walk, jog, bike, or any activity really. With GPS, you'll get a clear view of your training in real time. Set Goals – Have a race, weight, or pace in mind? We can coach you to get there. Follow a Plan – We have personalized routines to fit into your busy schedule. And helpful reminders, just in case. Stay Motivated – Join challenges, snag exercise rewards, and share achievements with your friends. See Progress – This whole running thing works. You'll see the sweat and we'll show you the numbers to prove it! Download From Here…
Review Of Apps : Works great. Love the encouragement. It's like a virtual high five when I go a little farther or faster. Since I don't really have any running friends to celebrate with, I adore these virtual posts on the back. They encourage me to keep going, even if it seems hard to get up on the dark and cold or summer's heat. I wish there was a way to do intervals and see place inside the interval instead of just by mile /over a graph. Looking for a program that does this well. (The one I used to use ceased after an update.)
You May Also Like 12 Best Lifestyle Apps For MAC Users
"Pedometer" records the number of steps you have walked and displays them again along with the number of calories that you have burned, distance, walking time and speed per hour. It is easy to use. Once you push the Start button, all you have to do is hold your smartphone as you always do and walk. Of course, it will continue to automatically record your steps even if you put it in your pocket or bag. You can view a graph with the number of steps you have walked and all other information anytime. Let's enjoy walking with this app! Install The Apps…
Review Of Apps : The app is easy to use and easy on the battery. It runs in the background. You set your step length and then watch the distance increase. I like switching between daily, weekly, and monthly totals, too. There are more options in the paid version, but the free version is fun for now. I enjoy trying to beat a score and I walk much than I did before I found this app. Other apps were less reliable and killed my battery. With this app I turned it on and never messed with it. After several months and resulting weight loss I am quite surprised at how much I enjoy this app.
7. Endomondo – Running & Walking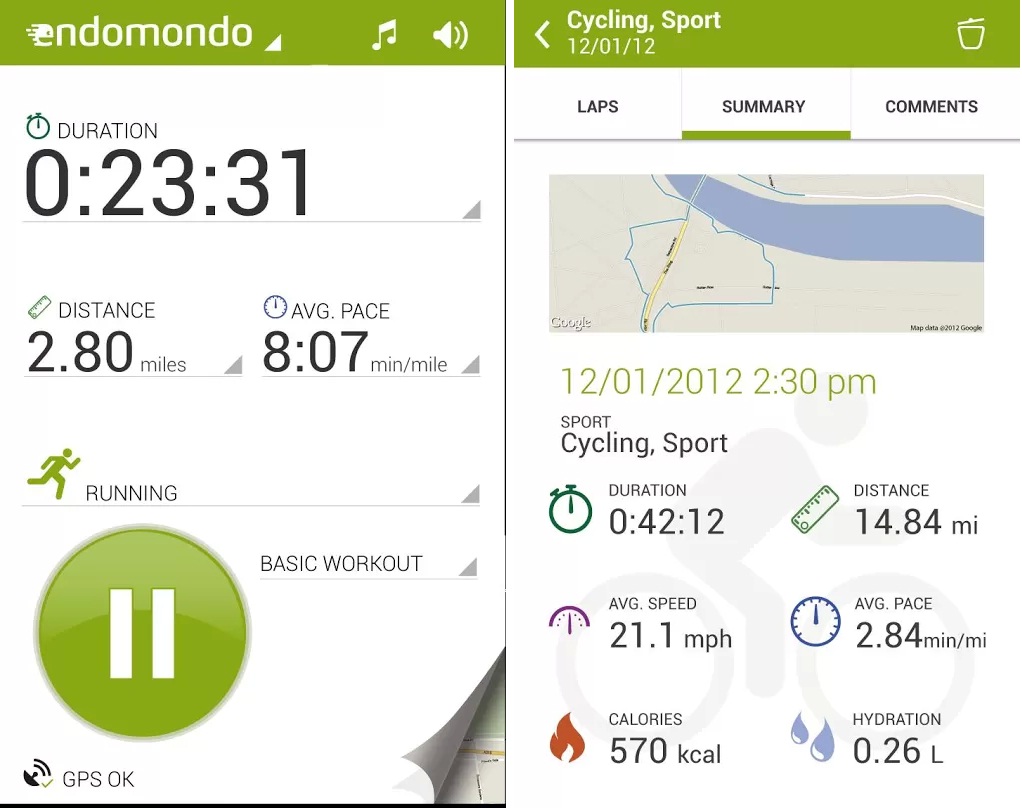 Get the most out of your runs, walks, rides, and more with our top rated fitness tracker and personal training app. With Endomondo, you can track all of your workouts using GPS, check your stats, and reach your fitness goals. Download the app now and get motivated to get active! Track your running, walking, cycling, and 40+ other sports using GPS. See duration, speed, distance, calories, and more on your workout summary
Get audio feedback on distance and pace for every mile/km. Log your indoor workouts manually. Track your heart rate (works with Bluetooth heart rate monitors). Click Here For Download Apps…
Review Of Apps : Great app. Works well. Latest update to link Polar app is great because I can leave the phone at home and sync from my watch later on. Happy customer
You May Also Like 32 Must Have And Best Education Apps For Smart Students
Whether you're just getting started or getting ready for another race, the Nike Run Club app surrounds you with everyone and everything you need to run better. With the motivation of millions of runners behind you and expert guidance around every turn, we'll help you reach your goals—and have more fun doing it. Tracks And Stores All Your Runs And Records. Audio Guided Running Workouts with Nike Coaches and Athletes. Personalized Coaching Plans Now Adapt To Your Schedule And Progress. Trophies and Badges To Celebrate Your Achievements. Compare And Compete With Friends On Leaderboards. In-Run Cheers from Friends. More Fun And Customizable Post-run Sharing With Friends. Apps Is Available Here…
Review Of Apps : I like the app and how you can see a map. Love the splits. Love that I can choose hearing my pace per quarter mile. However, I do not like when I'm on coaching mode, that I can't hear my pace every 1/4 mile like I can in the regular mode. Hence I typically won't choose the coaching mode anymore since hearing my time quarterly motivates me greatly! Would give 5 stars if I could do that.
9. 30 Day Fitness Challenge – Workout at Home
Workout at home, suited for anybody at any time. The 30 Day Fit Challenge Workout, designed by a professional fitness coach, is scientifically proven to help improve fitness and health. Also, this app can synchronize with burned calorie data on Google Fit. Stick with the program, and you will see amazing results.
By fully considering workouts rules, 30 Day Fit Challenge Workout increases exercise intensity step by step, so you can easily stick daily workouts. Don't need to go to gym, just use your bodyweight and take a few minutes a day, 30 Day Fit Challenge Workout will greatly help you keep fitness and lose weight effectively. Download Apps From Here…
Review Of Apps : Very good app Still some problems.. no stretching exercises or reminder for stretching before doing the exercises. Also need some tips for skinny guys to gain some weight and muscle. Maybe you could provide different workouts for fat and skinny people. I would give a 5 star if you people consider some of these suggestions. Thankyou
You May Also Like 21 Best Android Tools And Utility Apps You Should Use
10. Sworkit – Workouts & Fitness Plans for Everyone
Over 25 million people use Sworkit because it's the smartest workout app on the planet. You choose what kind of workout you want and how long you have, then Sworkit will show you exactly what to do. No more needing a gym, or weights, or excuses, just Sworkit.
Is it legit? Yes, we were rated #1 by a recent study assessing fitness apps based on the parameters for safety, stretching, progression, and more set by the ACSM (American College of Sports Medicine). We've delivered over 40 millions workouts to people of all fitness levels. Install Now…
Review Of Apps : Overall the app is awesome . In the recent updates some new exercises have been added it seems and out of which standing mountain climber isn't visible on the screen , I mean when this particular workout i.e standing mountain climber comes on the screen of the app the screen goes blank for 30 secs. Still there are some bugs though and also lags a bit sometime. So kindly see to it.
11. JEFIT: Workout Tracker, Gym Log & Personal Trainer
JEFIT helps you stay fit and get the most out of your gym workouts. Featuring data-driven training & easy workout logging mechanism. Combining with the largest exercise database and thousand of free full week workout routines, JEFIT has become the leader in gym training apps. JEFIT is your free personal trainer that helps you to build a stronger / leaner body.
JEFIT is the only workout app you need for your gym workouts. JEFIT is designed for all level of exercisers, from any gym beginners to professional bodybuilders and weightlifters, JEFIT can makes your training much more effective with exercise tracker. You can use the app without network access, then sync data to server once you have access to the Internet. This makes it easy for you access all your workout data from any device, even from your computer. Apps Available Here…
Review Of Apps : This app not only greatly helped me start working out but since it's super easy to keep track of personal data, it's almost single-handedly keeping me motivated and positive while recovering from my injuries. I don't want to be all hail corporate but honestly thank you so much JEFIT.
You May Also Like Top 20 Best Music Apps For Smartphone
12. Nike Training Club – Workouts & Fitness Plans
Welcome to Nike Training Club, your Ultimate Personal Trainer. Get fit with 160+ free workouts in a variety of full-body challenges — from strength and endurance to mobility and yoga — featuring our world-class Nike Master Trainers in every drill. If structure is what you need, our personalized training plans adapt to you and your schedule for a one-way ticket to the body you want — whether you're a seasoned athlete or just getting started.
WORKOUTS ANYTIME, ANYWHERE: Nike Training Club users love our short, body-weight only workouts to get the results they want even when life gets in the way.
PERSONALIZED WORKOUT RECOMMENDATIONS: Our daily "Picks For You" are based specifically on your routine. The more you train with Nike Training Club, the more personal your recommendations become.
FLEXIBLE TRAINING PLANS TAILORED TO YOU : Start training with a personal plan that guides you while adjusting to your progress, schedule, and other activities. Click Here For Install Apps…
Review Of Apps : Great app! I can honestly recommend it. I love it shows you how exactly to do each exercise, in case you wanna learn and broaden your training program. I love that it is narrated and there are actual athletes showing you how to train better. Totally got me into yoga and I'm loving it! If there is one thing I would change I would like an option to go back an exercise, in case you tap next (check it off) by accident. I have not figured out how to go back once you check off an exercise…
Fitness & Bodybuilding – This app will allow you to achieve great results, within a short period of time. This App allows you to create your own program that will fit your needs. In addition, Fitness & Bodybuilding is an extensive database of exercises for every muscle, with a detailed description and video for each exercise. Furthermore, our App provides workout plans for bodybuilding, powerlifting and fitness. Why pay for expensive instructors when you can do it yourself? Download From Here…
Review Of Apps : This is an awesome app for work out It helps me like a trainer I just love this app
14. Blue Light Filter – Night Mode, Eye Care
Blue Light Filter – Night Mode, Eye Care. Eyes feel tired during night reading on the phone? Have trouble in sleeping after long time watching phone screen? That is due to blue light. Blue light from your phone and tablet screen is the visible light spectrum (380-550nm) for circadian regulation. According to the scientific studies, exposure to blue light imposes serious threats to retinal neurons and inhibits the secretion of melatonin, a hormone that influences circadian rhythms. It is proven that reducing blue light can greatly improve sleep.
Blue light filter is used to reduce blue light by adjusting the screen to natural color. Shifting your screen to night mode can relieve your eyes strain, and your eyes will feel at ease during night reading. Also blue light filter will protect your eyes and help you sleep easily. Download Form Here…
Review Of Apps : Thank you! I used to read books before going to bed because it helped me fall asleep. I now use e-books but have a hard time sleeping and stay up very late. I learned about the effects of blue lights on electronics so I tried different apps and this app is by far, the best! No more bright blue light and no more staying up late at night!
You May Also Like The 15 Best Smart Phone Apps For Weight Loss
Water Drink Reminder reminds you to drink enough water. Proper hydration keeps your skin healthy and helps you lose weight. Featured by Google Play! No.1 heath app over 30 countries, top 5 over 90 countries! The best water tracker app ever! Helps you stay hydrated. This water tracker app reminds you to drink water every day to keep you hydrated.
Just enter your current weight, and Water Drink Reminder will help you determine how much water your body needs every day. Remember to update the app each time you drink a cup of water. Then the app will remind you when it's time for another drink. Hydration helper not only tracks what you drink, but also reminds you when it's time for another drink. Install From Here…
Review Of Apps : Simple and useful! The app does exactly what it is designed to do, remind you to drink water regularly. The only thing I would improve is the reminder sound. It's so soft that you tend to miss it sometimes.
16. Home Workout – No Equipment
Home Workouts provides daily workout routines for all your main muscle groups. In just a few minutes a day, you can build muscles and keep fitness at home without having to go to the gym. No equipment or coach needed, all exercises can be performed with just your body weight.
The app has workouts for your abs, chest, legs, arms and butt as well as full body workouts. All the workouts are designed by experts. None of them need equipment, so there's no need to go to the gym. Even though it just takes a few minutes a day, it can effectively tone your muscles and help you get six pack abs at home.
The warm-up and stretching routines are designed to make sure you exercise in a scientific way. With animations and video guidance for each exercise, you can make sure you use the right form during each exercise.
It's more than just a personal trainer – not only does it offer home workouts, it also offers meal plans to help you build muscles fast. Stick with our home workouts, and you will notice a change in your body in just a few short weeks. Download From Here…
Review Of Apps : Help full
Source: Google Play Store