June 16th, 2018 | Updated on December 3rd, 2019
A big screen LED TV is usually enough for a home theater setup, but that does not mean you can't experiment more with larger displays and immersive experiences.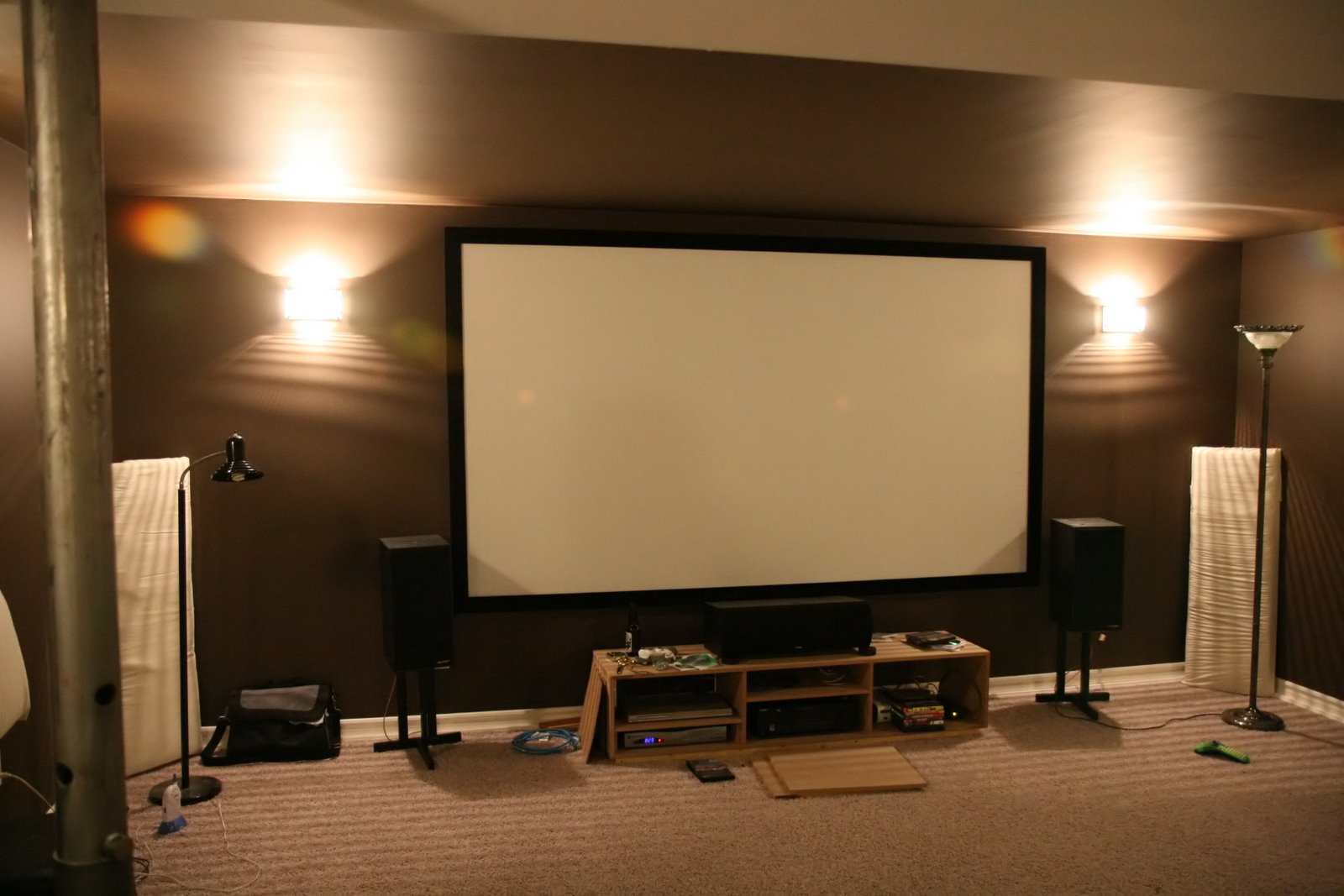 People have always been in love with projectors, and a "real" movie theater feel at home. That is probably the reason why projectors have been around for over a century.
Over the last few years, projectors have gradually transcended commercial use and made way for the more affluent households.
The modern high-definition projectors come with an affordable price tag, and they have been replacing the big screen TVs rapidly in middle-class homes around the country.
Sworn movie buffs have declared their love for the big screen by committing to projector screened shows at their abode frequently.
Is A Projector Right For You?
A LED TV might be for every home, but is a projector ideal for every household? There are quite a few factors you need to consider before buying a projector.
1. Do You Have A Dedicated Room For Screening?
A projector usually needs a darker room, devoid of natural light to function correctly. At the least, you should try to eliminate the natural light sources.
Choose a room with few windows. In case, you do not have a place in the house that is devoid of natural light.
You need to use heavy blackout shades to keep the natural light out.It is essential to preserve the quality of the screening, especially if your viewing choice is HD movies.
2. How Extensively Will You Use It?
Your viewing habits will influence the cost of running and maintenance of the projector directly. Some of the best projectors under 300 usually have a lamp-life between 2000 hours and 5000 hours.
The rating on the lamp usually represents the half-life of it. That is the point, where the brightness is half of the initial intensity.
The typical projector lamp works well past its half-life, but the brightness ebbs with the passing days. Replacing the lamp is easy, but a projector lamp can set you back by $100 – $500.
The average bulb lasts for about 4-5 years with 8 hours of use per week.
3. What Resolution Do You Need?
Almost all HD projectors for home-use have 1920 x 1080 pixels. These are the regular Full-HD projectors that can cost you within $300.
The 4K Ultra HD projectors with 4096 x 2160 pixels have a four times better definition than a full-HD projector. There are several, medially priced projectors with pixel-shifting properties.
They are not as good as their 4K counterparts, but their video resolution is better than 1080p. Your choice should depend upon the quality of videos you intend to watch, the size of the screen and, of course, your budget.
4. What Kind Of Light Output Do You Need?
Brighter rooms require projectors that have brighter outputs. Home theater projectors come with a median brightness level between 700 lumens and 2500 lumens.
They have the brightness to cast movies effortless in a dark room or a dimly-lit space. However, if your room has significantly more ambient light, you will require higher brightness levels. The high-end models come with adjustable lamp settings that allow you to control the brightness of the video and boost the contrast inside darker rooms.
There are a few one-of-a-kind models that support screening in a bright room with the lights on or with free-flowing ambient light. The light-sensitive displays absorb the ambient light and only allow the high-intensity projector display light to reflect.
5. Is Your Projector Going To Be Stationary?
Most homes with a projector keep it stationary, while the viewers adjust the accessories around it during viewing time.
Lens shift makes projector installation the most straightforward task ever. You can move the image or the video up and down, right or left as per your discretion during screening.
That widens the horizons of your placement options. You don't have to install the projector in the dead center of the room anymore. You might as well keep it on the side to aide more movement in the area yet enjoy a true image each time.
6. How Do Plan To Mount Your Projector?
Most owners choose to ceiling mount their projectors. It is a straightforward process that involves installing contraptions, professional skill-set, and cables for video connection.
Mounting it on the roof keeps it out of reach of small children and your pets. That fosters the "real movie theater" feel inside a home.
Unless your projector comes with ceiling mounting features and a free installation guide, you will need super DIY skills to complete the task on your own. Remember to look up in-wall wiring guides and wireless HDMI setups before you finish your ceiling mounting plans.
7. What Is Your Idea On Throw Distance?
The throw is the distance between the distance of the projector from the screen and the width of the image. Each projector has a distinct throw-ratio, and the placement of the unit will depend upon it.
For example – a short-throw lens will project a bigger image for a shorter distance as compared to a long-throw lens. The latter type is best-suited to be ceiling mount projectors.
They can cast better quality, standard size images from a longer distance. You can easily place it in the back of the room behind the viewers.
The long-throw, ceiling mounted projectors incur the least amount of interference from shadows and movements during the screening.
Asking these questions to yourself will help you find the right projector for your home theater experience. Always remember that the ultimate quality of the video will depend on the screen as well.
If you are investing on a good projector, you should also try to purchase a standard, high-end display to complement its screening quality.
Your screen should always match the structure and ambiance of your room as well. You should refer to expert projector and screen buying guides before making a big purchase in this field.